Hello GAF Users!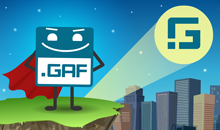 We are glad to announce another series of #GAFupdates.
The new release of GAF Converter 3.10 features multiple bug fixes thus provides an even more efficient animations' conversion.
Your posts on GAF Media Forum really help us detect the shortcomings, so keep it up.
GAF Converter 3.10 updates:
Fixed conversion error (in animations with shape tween and radial gradient).
Fixed 1px clipping in texture atlas regions (in some rare cases).
Fixed margin issue in texture atlas that sometimes causes artifacts in playback (1px lines in unexpected places).
Other small fixes and general improvements.
Don't forget to leave you comments about the new version and suggest more improvements.
Best regards,
GAF Team