Hello GAF Fans!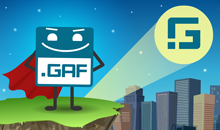 We are glad to be here and show you the updates of GAF Converter version 3.15.
The new features are:
Added Command Line Interface (CLI).
Optimized region's positioning through use of four packing algorithms instead of one and applying the best one for each animation.



Fixed "Browse for files" dialogue issue (now opening the last opened directory).
Fixed Issue with visually incorrect conversion output (for cases with animations containing two or more instances of the same Movie Clip with scale ≠ 1 and Tint or Adjust Color filter applied to one or several instances but not to all).
Other small fixes and general improvements in GAF Converter.
Have a good day!
GAF Team.