Hello GAF Fans,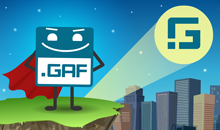 We are happy to introduce you to our regular section #GAFupdates!
We have been trying our best to make working with GAF Converter easy, fast and efficient. Here at GAF Media we really appreciate users' ideas and opinion regarding the tool and the performance of gaf files. Thanks to the GAF users' feedback we are able to constantly improve GAF Converter.
So, please, take a look at the new GAF Converter version 3.5. Application will update automatically after starting.
Version 3.5
Fixed application crash in preview mode after conversion complete (MAC)
Fixed issue with pivot point for single frame animation
Fixed issue with vector graphics that is thinner than 1px
Added output of the current frame in process of conversion
Have a nice day!
GAF Team