Hello GAF Users!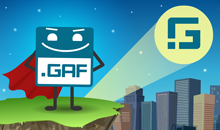 GAF Converter Version 5.1 is released.
In this release we fixed following bugs:
Fixed a clipping of the baked filters on the rotated regions;
Fixed a determination of the SWF Stage size (causes the GAF Preview crash in some cases);
Fixed an extraction of the Events when SWF is published with "Strict Mode" turned off.

Have a nice day!
The GAF Team.