Hello GAF Users!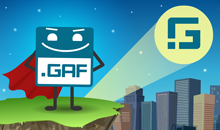 We are here with the #GAFupdates section.
Our conversion tool has become even better and we are glad to present you the new updated GAF Converter 3.9.
GAF Teams is constantly working on improving the process of porting Flash animations to various development platforms and making it as easy and smooth as possible.
The new in GAF Converter version 3.9 :
Fixed conversion error (for animations containing complex shape tween).
Fixed issue "conversion starts not from first frame".
Fixed mechanism of static parts baking (reduced regions number and texture atlas size in some cases).
Update now and feel free to share your feedback on the new version.
Best regards,
GAF Team