Hello, GAF Users!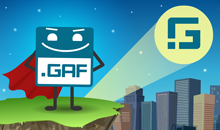 It's been more than two weeks since our last update and GAF Media team is finally back with another feature-packed update - GAF Converter 3.11.
For the complete details read on our GAFupdates post.
New features in GAF Converter 3.11:
Support for atlases with 4096x4096 size
Pivot point and animation bounds displayed in the animation player
Reverse playback button added in the played
Scale value accurate to the thousandth place
We hope you will find these updates useful as you test them out. In the meantime, be sure to visit our forum http://www.gafmedia.com/forum/ and leave your comments or suggest new improvements.
Best regards,
GAF Team