Hello GAF Users!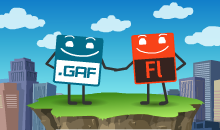 We have been working hard to make the conversion of flash animations even easier and we are launching GAF Publisher extention for Adobe Flash CC 2014.
Available on the Adobe Add-ons Store!
Now you can convert animations directly in Flash CC and play them on any device. You don't need to learn how to use GAF. Simply create your animations as you have always done and save out to .GAF format. What you see in Adobe Flash will appear exactly the same after conversion into GAF.
To download and install GAF Publisher click here.
After the installation:
Launch Adobe Flash CC 2014 and you will see a new option 'GAF Publisher (Custom)'
Select the 'GAF Publisher (Custom)' option and a new GAF Publisher document will be created.
Draw and animate something on the stage.
Go to File->Publish Settings.
Configure your publish settings - you will be asked to create a free account with http://gafmedia.com/account. Or you can click on the 'OK' button but your animation will contain the watermarks.
Once your free account is created, you can select Publish.
After publishing is complete, you'll see the animation player window.
Pressing Control (or CMD on Mac)+Enter will cause your animation to be published to SWF only and played on the screen.
GAF Publisher help: http://gafmedia.com/gaf-publisher-for-adobe-flash-cc-2014-help
Have a nice day!
GAF Team.