Hello, GAF Users,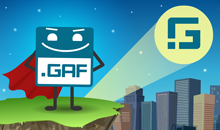 We have been waiting to present you the new version of GAF Converter. From now on the Preview Mode will feature the functionality of the Enterprise Edition of GAF Converter. The only difference is that gaf files generated in the Preview Mode will contain watermarks in a texture atlas.

Important! Automatic update function is not working in GAF Converter v.3.12. To update the converter up to the new version please choose "Check now" in Settings Dialog.
New features in version 3.13 :
Fully functional Preview Mode with all Enterprise features available (only with watermarks in texture atlas)

We have added "Originally designed for" feature in Advanced mode for texture atlas Scale settings.



With Advanced Scale settings you can target the devices with different resolutions on Android, iOS and other platforms. To do so create an animation for one resolution (Scale: 1 CSF:1) and run GAF Converter with correctly set up Advanced Scale settings (for example Scale=1 and CSF= 1 and 2 for Retina and non-Retina devices).

If you want to create an animation using raster graphics and you want to use it on both Retina and non-Retina devices you have to do the following:

- create your animation in Flash for Retina resolution (for Scale=1 CSF=2). Because you are using raster graphics you have to create original animation for the highest resolution to avoid pixelation.

- setup GAF Converter with the following Advanced Scale settings: Scale=1 CSF=1 and 2

- setup "Originally designed for" with the following settings: Scale=1 CSF=2

When the conversion is done you will see that GAF Converter has created two texture atlases for Retina (Scale=1 CSF=2) and non-Retina (Scale=1 CSF=1) resolutions.

We have added Alpha and Color Effect baking in texture atlas (works when Alpha and Color Effect are not changing during the animation). Now your converter animations will be even more optimized for playback in all GAF Libraries.

We have added a check for "no animation inside" Movie Clip. This works when the Movie Clip contains more than one frame but all the inner content remains stationary. It allows GAF Converter to handle technical errors created by designers and animators more accurately. A filter applied to the Movie Clip instance with more than one frame but with static content inside will now be converted correctly. In the previous versions GAF Converter was skipping Filters in such cases.

Several improvements and bug fixes in GAF Player (added debug info in Frame Items panel, redesigned reverse playback, improved drag animation in working area, etc.).

Other small fixes and general improvements in GAF Converter.
Have a nice day!
GAF Team.