Hello GAF Users!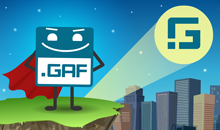 Let us show you the new features of GAF Converter v.4.1:
1.Texture atlas compression.
2.More optimization during conversion for better performance during playback.
3.Multilingual Interface.
4.Other
Texture Atlas compression
Since the main part of the GAF animation size is the texture atlas' size, and often it is very large, we implemented an option to decrease their size in MB. Starting from 4.1 version you can use one of four PNG encoding algorithms that will be applied to texture atlases.
Two of them are used for the lossless compression:
PNG lossless fast - the fastest algorithm that will be useful for the quick preview.
PNG lossless slow - the algorithm useful for the final conversion when you need the best possible quality.
Two of them used for lossy compression:
PNG posterized - useful when you need to decrease texture atlases size with minimal loss of quality.
PNG-8 - useful when an animation contains small amount of distinct colors (limited number of gradients) and decreasing the number of the distinct colors to 256 will be without noticeable loss of quality.
More information about the texture atlas compression please read in article Conversion settings.
More optimization during conversion for better performance during playback
Sometimes you need to convert a flash-animation that is full of filters, effects and masks. All those things are dramatically affects performance during playback. But you don't want to waste a time to remove all that stuff in Flash Pro before conversion. Here will be useful "skipping" settings from new "Debug & Optimization" panel, that allow you to highly optimize GAF animations during the conversion. Using those settings you can remove from the animation all the things, that affect performance during playback. Also you can use them to debug an animation and to see the effects, that affect performance. The obtained information is useful for optimizing an animation in Flash Pro before conversion. More information about "skipping" settings please read in article Conversion settings.
Multilingual Interface
Starting from version 4.1 standalone GAF Converter supports multilingual interface. At the first run you will be prompted to select one of four supported languages. Also you can change language later in Settings. Supported languages are: English, Chinese (Simplified), Japanese, Korean.
Other
Support multiple Scenes. All scenes will be merged into one Timeline in the designed order.
Improved GAF Preview.
Other small fixes and general improvements.