Hello GAF Users!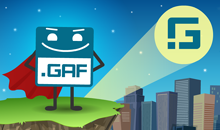 GAF Converter Version 4.4 is released.
The new features are:
1. A rectangular shape with solid color fill is packed in a texture atlas as 1 pixel region;
2. Conversion setting "Force squared" now is working as expected;
April 3rd, 2015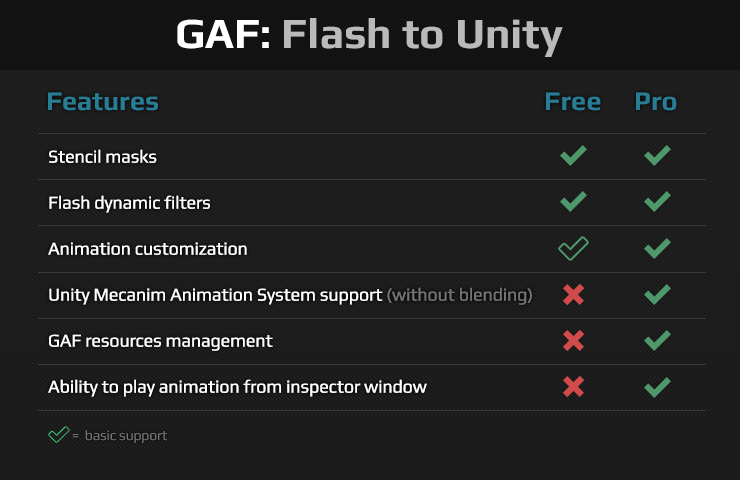 Update for GAF: Flash to Unity (Free and Pro versions)!
Version 4.0:
1) Nesting support.
2) Unity 5 support.
3) Unity 5 WebGL support.
4) iOS x64 support.
5) New Unity GAF Converter settings (conversion mode, debug & optimization).
6) XML documentation for methods (from GAF assembly).
7) Stencil buffer correct usage.
8) Bugs fixes.
Important:
Before importing this version, please delete the previous one in your project!
Also, you will need to recreate (NOT RECONVERT) your animation game objects.
This (4.0) version doesn't support WinPhone. We are working to support it in the future versions.
Hope you will love it! Also, we are working now on Windows Phone support and optimizations, so watch for our updates.
Have a nice day!
GAF Team.
March 18th, 2015
Hello GAF Users!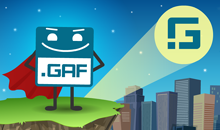 GAF Converter Version 4.3 is released.
The new features are:
1. Events (Event and DataEvent) are saved into gaf config in the conversion mode Plain (works like in conversion mode Nesting);
2. Improved algorithm of the atlas packing (the last atlas is minimized in case when the GAF Converter generates more than one atlas);
March 4th, 2015
Hello GAF Users!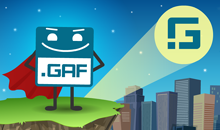 GAF Converter Version 4.2 is released. In this release we fixed following bugs:
- fixed the bug in the algorithm that defines static parts and bakes them into the texture atlas;
- fixed the bug that appears in the process of a conversion SWF files with raster graphics.

Have a nice day!
GAF Team.
February 26th, 2015
Hello GAF Users!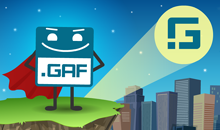 Let us show you the new features of GAF Converter v.4.1:
1.Texture atlas compression.
2.More optimization during conversion for better performance during playback.
3.Multilingual Interface.
4.Other
February 16th, 2015
Hello GAF Users!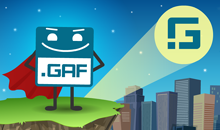 GAF Converter became a really powerful technology since the last year and now we are ready to provide you with an additional documentation, tutorials and help you to get started with GAF.

Today in our section #GAFupdates we want to show you the new section on our website.

January 14th, 2015
It's been an eventful year since the initial launch of the GAF converter. We would like to thank all our GAF users who have been part of the GAF community and contributed to its development.
GAF has greatly evolved over the last year. What started as a web based solution with a few libraries has now expanded into an integrated solution comprising standalone and web versions of the converter, plug-ins for Unity and Adobe Flash Pro, and playback libraries for Cocos2d-x and Starling.
We have also significantly improved speed and stability of the converter core. The conversion speed is now 10 times faster than a year ago.
January 6th, 2015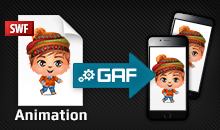 Hello GAF Users!
We are glad to introduce GAF Pro: Flash to Unity plug-in.
The plug-in features extended functionality and makes the process of working with GAF in Unity even more intuitive.
Features of GAF Pro: Flash to Unity version:
Integration with Unity3d animator

Extended animation customization and resource management
November 13th, 2014
Hello GAF Users!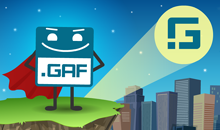 Today we are announcing the release of the updated web version of GAF Converter.
This time we've focused on ensuring GAF Users have the most thorough and easy-to-use web based solution for porting Flash animations to mobile. Here are the changes that we have made.