The success of The Office Quest, an adventure game developed with GAF
Developer: 11Sheep
Location: Israel
Game Title: The Office Quest
Game Genre: Adventure
By Lior Bruder, CEO of 11Sheep
I guess that every single game developer in the world could say that everything started when they were kids and, with gleamy eyes but steady hands, played their first game. But I'd like to finish this post before the year is over, and that'd be a bit cheesy anyway, so let's fast forward a little bit. In some sense, everything started when I decided to found a small development company. But then I would have to talk of 10 years of hard (but rewarding) work, during which we developed more than 50 products and saw many of our clients succeed – one of them sold his product that we developed for him for $50 million to NASDAQ!
So, fast forward again to the moment when we decided that the time had arrived to create our own "baby," to make a game for us and not for others. The idea had crossed our minds before, but it wasn't until some random day, having some coffee, when I saw a beautiful demo that Oren Rubin and Alon Simon had created. Back then it was something really tiny, but I instantly saw that it had something special – it was eye-catching, quirky, and funny. So I contacted them and told them that maybe we could make a mobile game out of it. We all agreed that it was worth a try.
And here we are, one year, one nomination to the Google Indie Prize, 20 times featured by Apple and Google (even featured once in the "Today" tab), and 4 million downloads later. It was definitely worth the try. Don't you think? But let's see how we got here – the path is as important as the destination!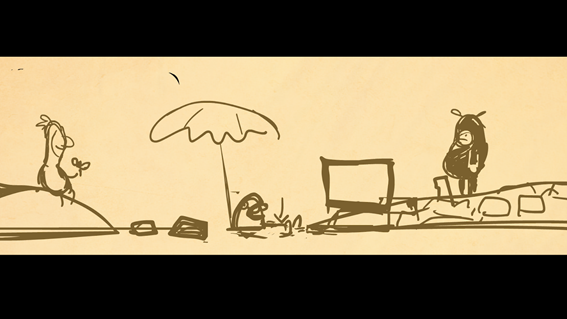 Sketch planning one of the chapters
Deciding on the kind of game we wanted to do
We had a demo, an art style, even the tone and mood we wanted for the game – but early on; we were not sure yet of the kind of game we wanted to do in terms of genre, platform, monetization… After some internal discussion (which involved hours of debate, several duels to first laugh at dusk, and a rubber chicken with a pulley in the middle), we settled on developing a graphic adventure. We knew from the start that it is a niche genre, but it seemed the best option. For a start, we had experience in the genre, and we felt confident in our ability to do great adventure games. It also allowed us to build upon the art style that had caught our eye, it could (if done right) appeal to a broad audience with different ages and backgrounds, and it was a good fit for the monetization we aimed for (we'll talk about that a bit later).
It was easier to decide which platform the game would be developed for. With our expertise in mobile development after so many years, the choice was obvious, and we quickly agreed to go for iOS and Android. For our first solo project we didn't want to leave our comfort zone; if everything went fine, there would be time for porting the game to other platforms. We also agreed readily on a non-aggressive approach to monetization. Graphic adventures are easy to divide into chapters, so we could sell each one separately at a reasonable price (about $3). Finally, we wanted the game to have great music and unique sounds effect for every chapter, so we contacted Alon Kaplan, a talented musician with experience composing for games. Having decided all that, we had very soon a clear picture of the kind of game we wanted to do. Now we
only had to actually make it…
Deciding which technology to use

The game demo was developed by our art team using Adobe Flash. Because we have a lot of animations in our game, or as our music composer say: "'wow, you have here animation for a whole movie!", we were looking for a technology that will provide us with the best and fastest art-develop flow possible.
This was a rather easy decision. Once we found and started to work with the GAF plugin for Unity our life became very easy and after 2 days of synchronizing with the art team it became a really natural flow. Getting more and more animations to Unity converted from Flash was very easy and helped us focus on other game aspects.
Casual Connect: a useful slap on the back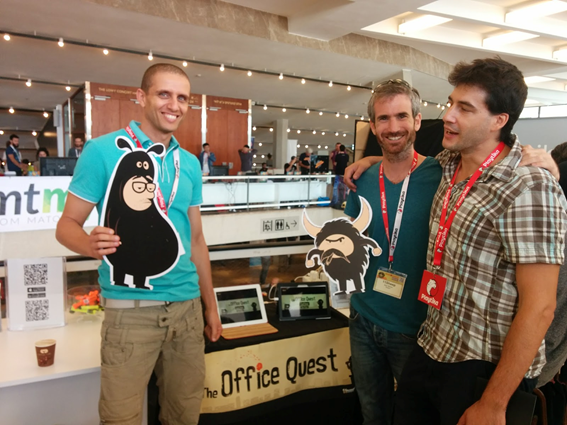 Showcasing the game for the first time

Four months of coding, designing, drawing, and drinking insane amounts of coffee later, we flew to Casual Connect with the first chapter of The Office Quest in our back pockets. We admit we were a bit nervous: we would be showcasing the game for the first time, after all, and not in a "controlled situation" but in a big event such as Casual Connect. Thankfully, everything went fine, and we received a lot of good feedback – and not only from users, but more importantly, from publishers too. It was a slap on the back after all the hard work we had put on, but it meant more than just a nice rub to our self-esteem: this experience confirmed that the game had quality, potential, and a market waiting for it.
For the kind of monetization, we were aiming for, we needed some more content. After Casual Connect, our primary goal was to develop a second chapter. We needed more quality content we could sell as an IAP in case the game gained momentum quickly, otherwise people might forget about the game at all. After 3 months, we were ready to publish the game. Crossing our fingers but confident in our work and the product we had developed, we pushed the metaphorical button, and the game went live. The dices were cast.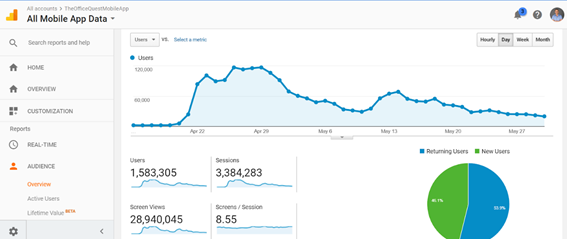 1 million users in the first month

What can we say: The Office Quest lived up to our best expectations on its launch. It started doing well all by itself, but it soon caught the attention of Apple and Google curators. The game was quickly featured both in iOS and Android, and we can say for sure that it made a huge difference. We got about 1 million users in the very first month – I can't start to describe how much it surprised us and how happy we were at the excellent reception. Word of mouth did its magic, and The Office Quest gained enough traction to keep receiving new users and being featured more times by Apple and Google. We also started receiving steady and significant revenue, something that obviously helped us to focus on the development of the next chapters. Money might not be the only measure of success, but it's definitely a damn good one!
Being a small indie team, and without the budget or resources to develop a proper marketing and PR campaign, we had to look for other ways to spread the word, so we didn't lose momentum. We presented the game to different awards, and it was nominated to a few different ones. The most important one, in our opinion, was the Google Indie Games 2017 Award, where The Office Quest was selected as one of the 20 finalists. Awards cannot be the foundation of a communication strategy: first and foremost because you have to win (or at least be nominated) to get some exposure out of them; but also because your average user hardly pays attention to awards.
The press does, though, and you can get some coverage and be highlighted in the media. Awards can be potentially a great networking opportunity: in the case of the Google Indie Games award, we were invited by Google to London, where we met a lot of talented indie developers and had the opportunity to talk with them and learn from them. We also met the Google team and received useful feedback and tips on how to improve. Overall, it was a great experience – again, maybe it couldn't be the foundation for a marketing campaign, but being nominated to a prestigious award is a sweet cherry on the top.
Increasing revenue through hints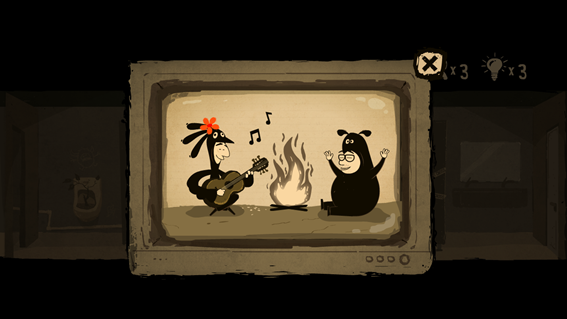 Clues had to be not only useful, but funny!
We also started looking for ways to increase our revenues without sucking our users' dry nor making them feel we were milking them. We wanted fair, respectful, and non-aggressive monetization means. We saw very soon that some players were giving up, abandoning the after getting stuck in a particularly tricky riddle or puzzle. Hints could make them come back, but charging for clues looked like punishing the more casual players. After some careful consideration, we settled for a knockout win-win solution: giving hints in return of seeing an ad. Also, we created the hints to be as funny as possible, so they had some value for themselves. The result: +15 % more revenues, users who played the game for more time than ever, and of course more chapters sold. Yay!
The next steps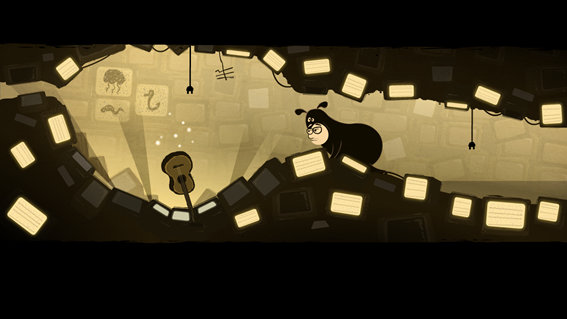 The first steps after all this process were clear: manage the community we had built, gather all the feedback and suggestions from our players, and create more content for the game, trying to improve it with every step. Then it was time to move on to find newer pastures. The Office Quest had succeeded on mobile, and we decided to port it to other platforms. The obvious platform of choice for the first port was taking the game to home computers: it is, after all, where adventure games were born, and even if they're a niche they're a strong one. It is a new world for us, though, and it presented us with its own set of challenges. For a start, there were some technical changes that were done immediately (and some of them, to be honest, made our life way easier): removing metrication and ads, implementing mouse controls, adapting the resolution, etc.
After the technical stuff was done we needed to tweak the game a little bit to adapt it to PC users, who have slightly different gaming habits than mobile users -- nothing too dramatic, and some of these changes are very subtle, but the kind of small problems that, if not fixed, makes you feel that something is off even if you can't put your finger on it. For instance, PC gamers tend to play in longer sessions than mobile users, so the music loops needed to be longer in order to be seamless. We have just released the game on Steam, and we are still waiting to see the results. Down the road, we are also considering to publish the game on Nintendo Switch – after its success on iOS and Android, the Switch seems a perfect fit for the game!
And naturally, 11Sheep's journey does not end with The Office Quest. We are working on our new game and looking for more opportunities to grow as a company within the games industry. If you are a publisher or another studio and you think there is an exciting project where we could cooperate, don't hesitate to reach out to us!