Our latest testimonials

GAF is providing the best tool out there to import SWF animations into your game. We've been testing quite a few tools/plugins and they've overpass all of them. The team behind it is super responsive and friendly.

GAF greatly reduces the number of steps in game development workflow.
With GAF you can play any Flash 2D animation (explosions, cutscenes, characters, etc) on mobile devices.
No special pre-preparation needed to convert your Adobe Flash Pro 2D animations into .gaf format.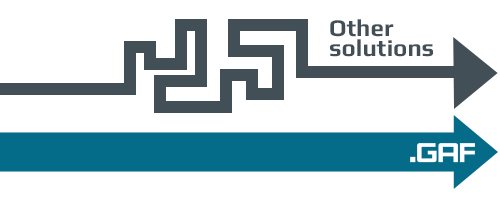 GAF delivers the highest performance:
High FPS, which is possible due to runtime libraries provided and supported by GAF Media;
Minimal amount of drawcalls achieved by the means of using native API for each framework to control and manage animations;
Highly optimized texture atlas to achieve minimal RAM consumption and build size.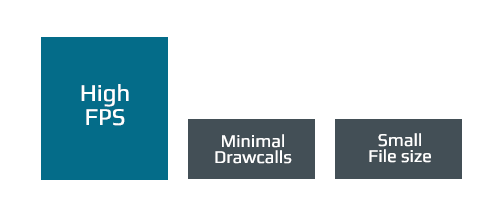 GAF Converter supports the full capability of Adobe Flash Pro. Support includes:
Vector graphics;
Shape, motion, and classic tweens;
Filters and Masks;
Frame labels;
And much more!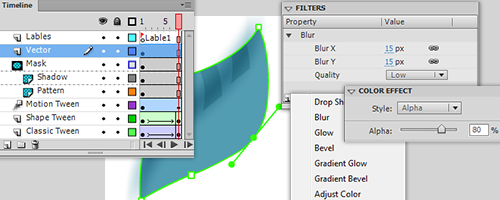 With sprite sheets you cannot port the full range of 2D animation possibilities to your mobile game.
GAF ports the full range of 2D animation possibilities to your mobile game;
GAF provides fast texture loading into the device memory as against to time consuming loading when using sprite sheets;
GAF allows preserving custom animation effects, which are lost when using sprite sheets.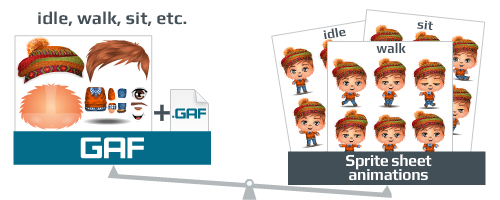 We have developed high-performance, flexible and reliable runtimes which turn GAF animations into fully featured game objects supporting all features of the game engine you're using. Full playback API supported in Unity3d, Cocos2d-x, Cocos2d, Starling.